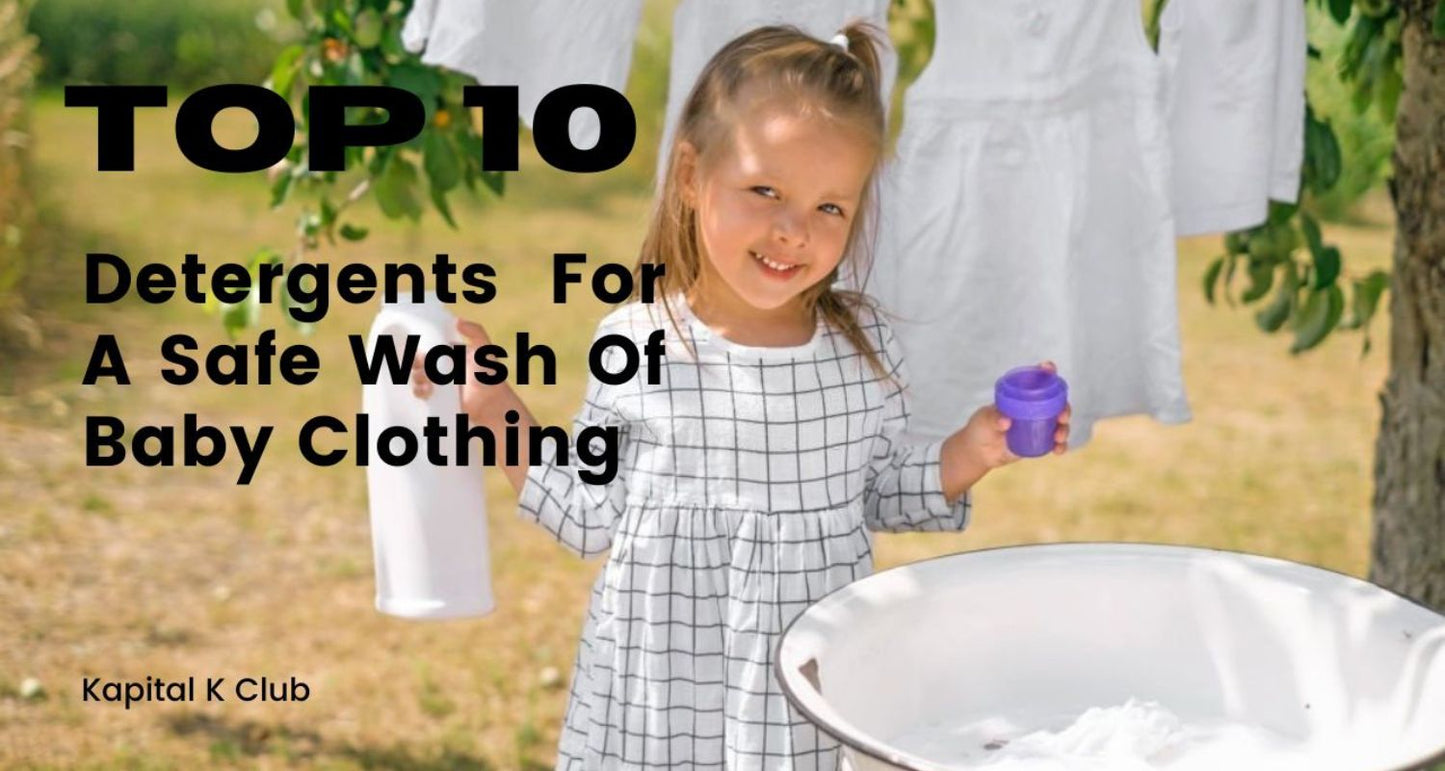 Hello, fellow parents and guardians!
Navigating the world of baby products can feel like a maze, especially when it comes to picking out the best detergents for your little one's clothes. We all want our babies to be snuggled in clean and safe fabrics that smell divine, without irritating their delicate skin. Being a seasoned parent myself, I've done the legwork, experienced the trial and error, and narrowed down the top ten detergents that ensure a safe wash for baby activewear clothing.
What Detergent To Use For Baby Clothes?
1. Purex Liquid Baby Laundry Detergent
Why I Love It: This is one of the best choices for budget-conscious parents. The hypoallergenic properties of Purex Liquid make it perfect for your baby's tender skin. With a cost of just $0.11 per load and lasting up to 126 loads, it doesn't just protect your baby but your pocket too.
Pros:
Hypoallergenic: Ideal for babies with sensitive skin.
Budget-Friendly: At $0.11 per load and lasting up to 126 loads, it offers great value for money.
Cons:
Some parents have reported a need for an extra rinse cycle to ensure no residue is left behind.
2. All Free Clear Liquid Laundry Detergent
Why It's a Favorite: The all free detergent has been a lifesaver in our home. Being the Best Overall pick for baby laundry, it promises great value for money. What's even better? It's free of dyes and perfumes, ensuring that even babies with the most sensitive skin can wear clothes washed in this without a worry.
Pros:
Perfume and Dye-Free: Perfect for the most sensitive skin.
Effective Cleaning: Known for deep cleaning and stain removal.
Cons:
The consistency is quite watery, which can sometimes lead to the need for more product per wash.
3. Noodle & Boo Ultra-Safe Laundry Detergent
Special Mention: Nothing beats the mild, pleasant scent of Noodle & Boo. Its plant-based formula is a champ in battling those stubborn baby stains and odors, leaving the clothes smelling fresh and feeling soft.
Pros:
Mild Scent: Offers a fresh, light aroma without being overpowering.
Plant-Based Formula: Environmentally friendly and gentle on clothes.
Cons:
A bit pricier compared to other brands.
4. Tide Free & Gentle
What Stands Out: Trusted by dermatologists, this detergent is free of dyes, perfumes, and phosphates. Tide Free & Gentle has consistently delivered hypoallergenic safety for my baby's clothes.
Pros:
Dermatologist Recommended: Trusted by skin experts.
Free of Harmful Chemicals: No dyes, perfumes, or phosphates
Cons:
Some users miss the scent often associated with freshly laundered clothes.
5. Loni Bio Laundry Detergent
The Natural Choice: For parents who are keen on using products rooted in nature, Loni Bio is your go-to. With natural ingredients, it ensures cleanliness without compromising safety.
Pros:
Natural Ingredients: Ensures a safer wash for baby clothing.
Eco-Friendly: Biodegradable and safe for the environment
Cons:
Might struggle with very stubborn stains.
6. Seventh Generation Concentrated Baby Laundry Detergent
Why I Recommend It: A detergent that's tough on stains and gentle on your baby's skin. Its concentrated formula ensures you use less but achieve more in terms of cleanliness.
Pros:
Concentrated Formula: Uses less product for the same cleaning power.
Environmentally Responsible: Produced with sustainability in mind.
Cons:
Some find the scent not as pleasant or too strong.
7. Charlie's Soap Fragrance Free Laundry Powder
Why It's in My List: Some babies are extremely sensitive to fragrances, and for them, Charlie's Soap is a blessing. Free from any scent, it ensures a safe and thorough clean.
Pros:
Absolutely Fragrance-Free: Great for ultra-sensitive noses and skins.
Powdered Form: Efficient and long-lasting.
Cons:
Powdered detergents may not dissolve as effectively in colder wash cycles.
8.The Honest Company Baby Laundry Detergent
Worth Mentioning: This brand has always prioritized transparency, and their baby laundry detergent is no exception. Efficiently cleans while ensuring your baby's skin remains irritation-free.
Pros:
Transparent Ingredient List: Know exactly what you're using.
Effective in Hard and Soft Water: Versatile across different water conditions.
Cons:
On the higher end of the price spectrum.
9. Newborn Liquid Laundry Detergent
Tailored for Babies: As the name suggests, it's specially formulated for newborns. Knowing how delicate they are, this detergent ensures a gentle yet effective wash.
Pros:
Formulated Specifically for Newborns: Addresses the unique needs of fresh baby skin.
Gentle Formula: Prioritizes skin health and safety.
Cons:
As babies grow, parents might need to transition to a stronger detergent for more active toddlers.
10. Tide Pods Free & Gentle Laundry Detergent Pacs
For the Modern Parent: If you're looking for convenience without compromise, these pods are your answer. They offer the trusted hypoallergenic properties of Tide in a hassle-free pod.
Pros:
Hassle-Free Use: No measuring required.
Consistent Dosage: Every pod offers the same amount of detergent.
Cons:
Need to ensure it's stored safely away from children as they can be mistaken for toys or candy.
A Few Parting Tips
Pre-Treatment: Always remember to treat stubborn stains immediately. This ensures that the detergent can work its magic effectively during the wash.
Test Patch: Even with these safe detergents, always do a patch test for any new product. Apply a small amount on a section of your baby's clothes and wash. Check your baby's skin after wearing the cloth for any reactions.
Regular Cleaning: Clean your washing machine regularly. This avoids any residues from other detergents or softeners that might not be baby-safe.
Also check my new blog on 5 must-have sustainable baby clothes
Final Note
Bringing a child into the world comes with its fair share of challenges, but ensuring their clothes are washed with safe detergents shouldn't be one of them. Here's hoping that this list makes your journey a tad bit easier. Happy parenting!